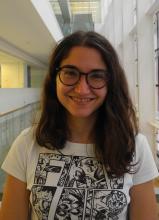 Isabel Hernando has a degree in Geology from the University of Salamanca (2012-2016). The following year she completed the Master in Geological Resources and Processes at the Complutense University of Madrid. In 2019, she finished the Master's Degree in Teaching, in the specialty of Biology and Geology.
She has been working as exploration geologist and as laboratory technician with Paleomagnetism research team at the Nacional research center of human evolution (CENIEH), collaborating on several projects such as the Hominin Sites and Paleolakes Drilling Project (HSPDP).
At present, she is carrying out her doctoral thesis subsidized by the Ministry of Science, Innovation and University (MINCIU) at the National Center for Research on Human Evolution of Burgos (CENIEH) in the Geochronology and Geology Program. Her research project is focused on the geological contextualization of the Atapuerca site. Specifically, her line of research is focused on the characterization and dating of the sediments of the different river valleys using the ESR technique.