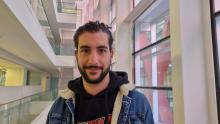 Experimental Archaeology Laboratory Support Technician
Javier Llamazares González has a degree in History from the University of León (2013 – 2017). Later, he completed a master´s degree in Human Evolution at the University of Burgos (2017 – 2018). He carried out his Final Master´s Thesis on the lithic technology from level XVII of the Bolomor Cave (Valencia). During those years he participated in different excavations from Lower and Middle Palaeolithic like Bolomor Cave (Valencia), Toll Cave and Teixoneres Cave (Barcelona), Sima del Elefante and Fantasma Cave (Atapuerca, Burgos).
His expertise is on the lithic technology and the experimental archaeology applied to the formation of the archaeological record. He has collaborated with some centers like Laboratory of Experimental Archaeology (LAEX) from the Autonomous University of Madrid. On the other hand, he has conducted any excavations about Spanish Civil War in the framework of the Archeology of Conflict.
Since 2022 he has been part of the research team of the National Center for Research on Human Evolution, as a support technician in the Laboratory of Experimental Archaeology.