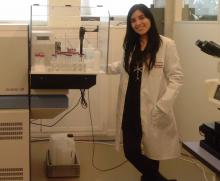 Universidad Complutense de Madrid
Virginia Martínez Pillado is a Quaternary Geochronologist and Paleoclimatologist, specialized in Uranium Series (U-Th) dating and in the study of speleothems by petrology, stable isotopes and trace elements analysis. She is a member of the Atapuerca Research Team since 2008, where she develops most of her research. Between 2015 and 2018 she worked as a technician in the Uranium Series laboratory at CENIEH.
She obtained her PhD degree at the University of the Basque Country in 2018 and currently she is a postdoctoral researcher at the Complutense University of Madrid. Her current research aims to contextualize the climatic factors and events that influenced the Neanderthal lineage in the key moments of their evolution and disappearance. For this purpose, she performs paleoenvironmental reconstructions from speleothems in Middle and Upper Pleistocene archaeological sites, and she is also developing a fossil teeth dating project using the combined method of Electronic Paramagnetic Resonance (ESR) and U-Th.