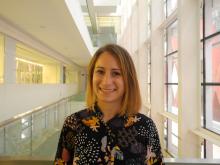 Postdoctoral Researcher: Uranium Series Dating
Maïlys Richard holds a Ph.D. in Geochronology and Prehistory from the National Museum of Natural History in Paris. Her dissertation dealt with the chronology of late Middle and early Upper Palaeolithic sites in Western Europe, using electron spin resonance and uranium-series dating methods. Thereafter, she was trained in luminescence dating during a postdoc at the Research Centre of Applied Physics to Archaeology of Bordeaux Montaigne University and a research stay at the Geological Survey of Israel in Jerusalem. She also worked on U-series dating applications to different materials such as speleothems, fossil teeth and corals at the Laboratory for the Sciences of Climate and Environment in Gif-sur-Yvette (France).
Her primary research theme is the chronology of population dynamics in Eurasia and Africa during the Middle and Late Pleistocene.
Since 2020, she is a postdoctoral researcher at the CENIEH, with a research project combining dating and characterisation methods to improve the timeline of occupations related to Homo neanderthalensis and early Homo sapiens. She is currently involved in several research projects in France, Germany, Israel, Tanzania and South Africa.