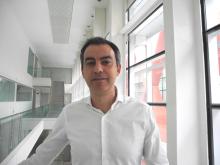 Carlos de Quevedo Puente has held the position of Manager since February 2010. He joined CENIEH in February 2006 as Head of Economic and Technological Systems, actively participating in the construction and start-up of the Center and all its infrastructures.
As Manager, he supports the Management by leading the management processes of the Center in its broadest sense: planning and general organization, human resources, economic and budgetary management, purchasing, communication, systems, maintenance. In short, it is responsible for the general operations of the Center.
Degree in Economics and Business Administration from the Commercial University of Deusto. Executive MBA from EOI and Master in Financial Management from ESIC.
His previous professional career has spanned the financial (Banco Popular Group), consulting and auditing (PwC) and industrial (Metalibérica) sectors.
Likewise, since October 2005 he has been an associate professor in the Department of Economics and Business Administration of the Faculty of Economic and Business Sciences of the University of Burgos.