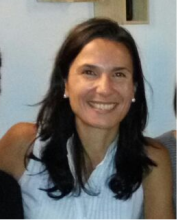 Organization and Human Resources Manager
Carmen Gutiérrez Díez, Manager of Organization, Services and Human Resources of the National Center for Research on Human Evolution (CENIEH) since April 2006. Degree in Law, legal-economic specialty, Deusto University, in Bilbao. Erasmus scholarship in Cambridge, England. Master in HHRR Management. High level of English and medium of French. Her professional career has been developed always in international environments and companies. She worked during seven years at A. Andersen and Ernst & Young in Barcelona and Madrid, both in the field of financial statements audit and internal control evaluation (under the Sarbanes-Oxley Act), and in the field of consulting for the improvement of internal and organizational processes of companies.
She works at CENIEH since its beginning and building construction, in 2006, leading the Department of Organization, Services and Human Resources. In general terms, she develops the functions of conducting, coordinating and supervising the policies and development of the selection and hiring processes, HHRR policies, training, organization, evaluation assessment, health and security, national and international grants of personnel, data protection and general services of the Center. She also provides support to General Management and Director in the scope of her functions.