The Prehistoric Technology and Archaeology Laboratory aims to support and encourage research into and the study of collections of prehistoric stone tools, streamlining the processing and analysis of the collections generated by the CENIEH projects and other external bodies and projects. It is designed as a versatile space which adapts to the needs and demands of the users and archaeological materials arriving at its facilities.
In this laboratory, strategies directed at studying and managing the collections are evaluated, managed and developed, both for those present at the CENIEH and at other institutions, museums, exhibition halls, field laboratories at archaeological sites, etc.
Methods
Its capabilities cover a series of tasks essential for the proper conduct of these studies: preparation of collections (cleaning and cataloguing); characterization of raw material; analysis of the technology of production; characterization of tool shape (typology); determination of tool function using microscopic analysis of the traces of wear; graphic documentation (macro and microscopic photography, 3D models and standardized drawings of tools)
Facilities and equipment
It has personnel, equipment, work and storage areas which allow the different phases of the preparation and analysis of archaeological and experimental pieces to be undertaken. Its facilities are open to users of the CENIEH and the rest of the Spanish and international scientific community (projects, collaborations, support for R+D+I), and it is intended to offer it to the corporate world (archaeology and cultural management companies, museums, technological and scientific centers), and to society in general, furnishing quality, value-added services.
Work, consultation and storage area

Work tables with capacity for spreading out materials

Storage modules for work materials and collections being processed

Two workstations with PCs

Precision balance, digital calipers, material for making high-resolution silicone molds Coltène-President, etc.

Photography area

Photography bench and spotlights

Digital camera and professional software for image processing and edition of graphic materials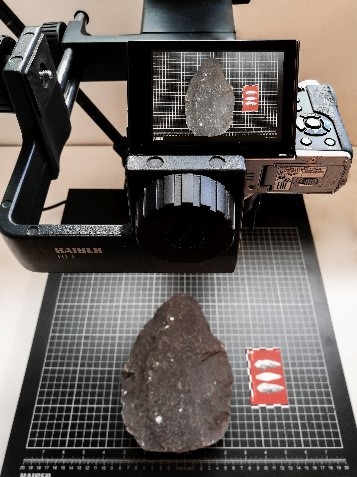 Microscopy and functional analysis area

Metallographic microscope Olympus BX51

. Incident light microscope, allowing traces of wear to be analyzed at up to 400x magnification, and which also has a DIRC prism facilitating the observation of traces of use in highly reflective materials such as quartzes

Binocular microscopes: Olympus SZX16 and Olympus SZ

, with multiple lighting system and motorized base for focus and zooming

Digital microscope Dino-Lite AM7115MZTL

which permits observation of up to 200x magnification either in field laboratory or in situ

Nikon camera DS-Fi2

and NIS software materials NIS materials and Helicon Focus, making multifocus captures possible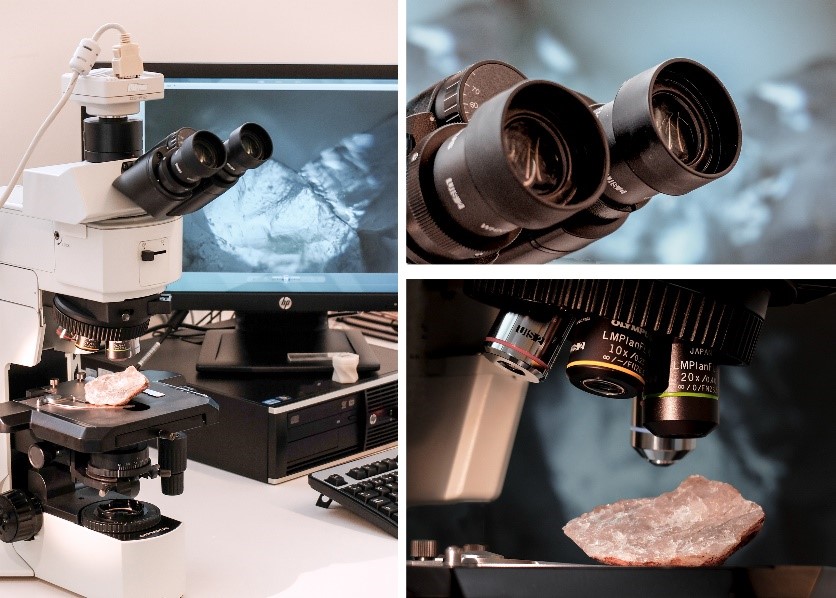 Reference collections

Mineral collection (LITHO),

reference collection of lithic raw materials with physical samples, thin sections and digital documentation

Experimental Traceology Collection (CET),

with comparison materials for the analysis of traces of use in different raw materials (flint, quartzite, basalt, quartz, lutite, etc.) and different activities (work in wood, bone, antler, butchery, etc.

Applications and Services
Applications
Archaeology and Research

Support and assistance to speed up the processing and analysis of collections

Study and characterization of archaeological assemblages

Logistics in archaeological, laboratory and field laboratory tasks

Cultural Heritage And Museums

Advice on questions of cataloguing, computerization of records and enhancement of prehistoric or archaeological heritage

Cataloguing and inventorying of archaeological collections

Graphic documentation and digitalization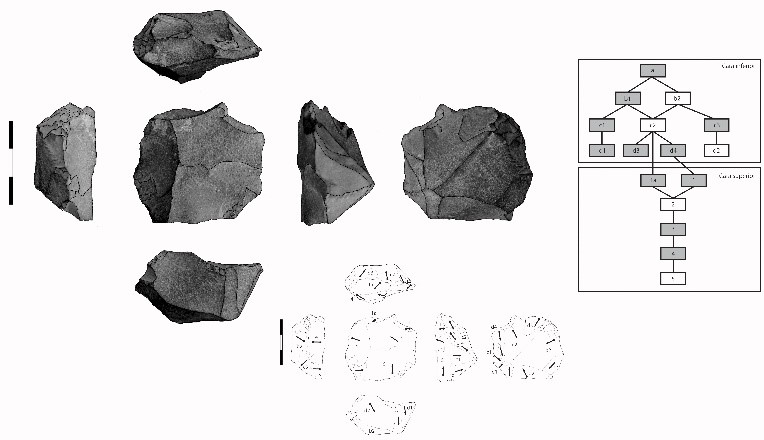 Services:
Processing and preparation of archaeological collections

Cleaning and organization of materials

Screening of deposits and sifting

Selection, identification and individualization of archaeological remains

Marking, labeling, packing and packagin

Cataloguing and registration of archaeological collections

Study of archaeological collections

From different contexts and chronologies

Technological analysis

Typological analysis

Functional analysis

Preparation of

graphic

documentation

Scientific drawing

Photography and microphotography

Edition and typesetting of plates

Preparation of infographics

Generation of 3D models

Consultation of reference collections

Mineral collection

Experimental Traceology Collection