The CENIEH forms part of the Spanish node, together with the CSIC and the IPCE, for which this General Protocol for Action represents a further step in the consolidation of this European infrastructure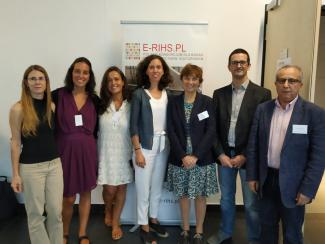 The Centro Nacional de Investigación sobre la Evolución Humana (CENIEH), together with the CSIC and the IPCE, has just signed a General Protocol for Action, for a term of four years which can be automatically extended, to link up the Spanish node of E-RIHS (European Research Infrastructure for Heritage Science).

Thus, the CENIEH joins this consortium officially, whose objective is to establish a joint and coordinated framework for action to represent Spain in the E-RIHS infrastructure, and lead and coordinate Spanish participation in all the initiatives, both domestic and international, related with the project.

"This Protocol is the official launch of the Spanish node, which is open to the participation of other institutions in the country, so as to confer greater competitiveness upon the project", says Cecilia Calvo Simal, E-RIHS project technician at the CENIEH.

As the only Unique Scientific and Technological Infrastructure (ICTS) in the Humanities and Social Sciences in Spain, the CENIEH plays a strategic role in this project, whose objectives are to offer a wide range of leading-edge facilities, scientific instruments of a high level, methodologies, collections, data and tools, and to encourage an interdisciplinary culture of exchange and cooperation, and scientific and technical collaboration.

Meeting in Poland
The 18 partners in the E-RIHS project, which is in its preparatory phase, were gathered on September 5, 6 and 7 in the Biological and Chemical Research Center in Warsaw (Poland) to continue work on the future of this European infrastructure. Among the topics discussed were governance, access and training.

The first National Coordinators' Committee meeting also took place, at which France, Italy, Poland, Portugal, Slovenia, Spain and Sweden had the opportunity to present the advances of their respective nodes to the other European partners.

E-RIHS got under way at the beginning of 2017, with the objective of establishing a distributed European infrastructure which provides support for research into the interpretation, conservation, documentation and management of Heritage.