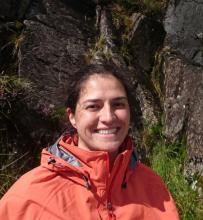 Researcher: Luminescence Dating
Alicia Medialdea is a physicist with a special interest in luminescence dating. Her PhD thesis focused on the application of luminescence dating in the study of flash-floods. She has worked at the Nordic Laboratory for Luminescence Dating in Denmark, the University of Cologne in Germany and the University of Sheffield in the UK, among other institutions. She joined the Geochronology group at the CENIEH in September 2020.
Her research interest is the development of the methodology of luminescence dating with the aim of extending the age range covered, to beyond the limits of conventional methods. She has studied the use of violet stimulated luminescence of sedimentary quartz, showing the potential for extending the age range as well as offering the possibility of applying this new method on materials with a poor luminescence response to conventional methods. The publication record derived from her research as well as her collaborations can be found in ResearchGate and through her Orcid number.