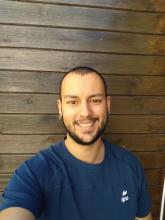 ERC-2020-STG DEATHREVOL Project
Manuel Rodríguez Almagro has a degree in Archaeology from the University of Granada (2014-2018). During those years he participated in different excavations in Spain and Italy as Galería de las Estatuas (Burgos), Cueva de la Malia (Guadalajara), Koskobilo (Navarre) and Pizzo Monaco (Sicily), among others. Later, he completed a master's degree in Quaternary, environmental changes and the human footprint at the University of the Basque Country / Euskal Herriko Unibertsitatea (2018-2019). He carried out his Final Master's Thesis on the paleobiological and taphonomic study of the Mainea Cave (Navarre) under the supervision of Dr. Asier Gómez and Dr. Nohemi Sala.
He has been member of the research team that has studied the fossil remains of Koskobilo and the Mainea Cave. Furthermore, he is currently a member of several excavation and research projects such as those from the Tamajón karst (Guadalajara), as well as the research team of the Polvorín-Sima I (Karrantza, Bizkaia) and Baio (Zestoa, Gipuzkoa) archaeological sites. Since October 2021 he has been conducting his doctoral thesis at the National Center for Research on Human Evolution (CENIEH) from Burgos for the ERC-2020-STG-DEATHREVOL Project, focused on the taphonomic analysis of fossil fauna remains from Quaternary sites of the Iberian Peninsula.
Image