Its primary mission is to conduct elemental and isotopic analyses on all types of materials in the case of both majority concentration levels and trace and ultra-trace composition. Work is also carried out to identify and develop the most appropriate analytical methods to achieve the desired objectives of researchers and users.
The analysis procedures carried out at this laboratory are based on ISO 1885:2010 measurement methods and EPA 200 series for the analysis of waters, and the clean room is also used for the treatment of samples. Our microwave-assisted digestion methods are based on the EPA 3000 series.
Methods
The elemental analysis methodology depends on the type of material or matrix whose composition it is necessary to identify. For the analysis of waters, we follow a standardized method based on UNE-EN ISO 11885:2010, and measurements are carried out according to ICP-OES.
Direct measurement or sample dilutions are employed to analyze arsenic in water, through high-resolution mass spectrometry ICP-HRMS, with detection limits in the range of ng·l-1
In addition to dating purposes, the isotope ratios of U/Th are employed in hydrogeology, as markers, in research on sedimentary processes and transport processes, etc. The analysis methodology entails the separation of the uranium and thorium in the laboratory and its subsequent measurement with the multi-collector mass spectrometer MC-ICPMS.
The isotope ratios of strontium can be performed after separating and isolating the strontium from the matrix by using specific resins, through MC-ICPMS-based measurement.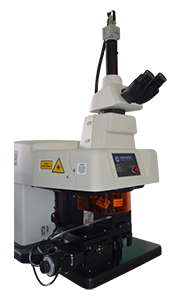 The elemental composition of rocks, sediments and many other types of samples can be analyzed after they undergo acid digestion processes, generally microwave-assisted, and final measurements are taken by ICP-OES. This can also be done by ICP-HRMS, depending on the expected concentration of the analyte of interest and the availability of the sample. The general microwave-assisted acid digestion methodology for environmental samples employed at CENIEH is based on the recommendations of the American Environmental Protection Agency EPA 3051 and EPA 3052.
When the availability of the sample is very limited, or when it does not enable the destruction thereof, it is possible to connect the spectrometers to a laser ablation system, which extracts a minimum quantity for analysis directly, with no chemical preparation.
Facilities and equipment
Dual-approach mass spectrometer with inductively coupled plasma ionization source, magnetic sector with reverse Nier-Johnson geometry and triple detection system with Thermo ELEMENT XR extended range.

Atomic emission spectrometer with inductively coupled plasma ionization source, dual vision and range between 176-760 nm Perkinelmer ICPOES Optima 5300DV.
Multi-collector mass spectrometer with 9 Faraday cups and 6 ion counters, inductively coupled plasma ionization source MC-ICPMS Thermo NEPTUNE, with the possibility of applying a Jet interface and connecting to a desolvating membrane with an Aridus 2 system.
Nd:YAG 213 nm NW UP213 universal platform laser ablation system with video confocal microscope.

Metal-free Clean Room with two clean rooms and 8 work cupboards. The Room is ISO 7 certified and the cupboards boast additional air purification through U15 filters. There are two sub-boiling acid distillers.
Applications and Services
Applications
Analysis of elements in aquatic systems.
Detection and elemental quantification in geological and environmental samples and all types of materials.
Identification of the elemental composition, in the case of both majority and trace concentrations, of materials in archeology and paleontology: flint, fossils.
Paleodietry research through the analysis of the isotope ratios of Sr.
Research with elemental tracers and markers.
Research in the fields of medical geology, biotechnology, dosimetry.
Etc.
Services
Sample preparation.
Elemental identification through atomic emission spectrometry with ICPOES plasma source.
Elemental identification through high-resolution mass spectrometry with ICPOES plasma source.
Identification of isotope ratios through multi-collector mass spectrometry with MCICPMS plasma source.
Last updated: Wed, 01/26/2022 - 10:01