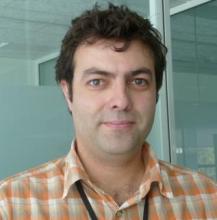 Uranium Series Laboratory Technician
Fernando Jiménez obtained his university degree in Science and a PhD in Analytical Chemistry at the University of Valladolid (Spain). Since 2010 he works as the Head Uranium Series Laboratory Technician, CENIEH.
Some of his previous experience includes Quality Management of Laboratories and Supervision of Radioactive Facilities where he developed his activities in Environment and Pollution and Biomedical Sciences as well, always using radioactive isotopes as tracers. Since 2010, he has focused his interests on the isotopic ratios of uranium series and on the composition of trace elements in different materials as well. He has gained wide expertise in analytical atomic spectrometry, especially in MC ICP-MS, ICP-HRMS and ICP-OES.
Currently, he is charge of the general operation of the U-Series laboratory, ensure the quality of the analytical results, prepare samples, develop analytical methods and he also provides research collaboration in the areas of Human Evolution, Pollution and Environment and others.