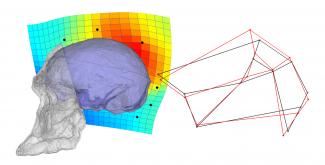 Emiliano Bruner, responsable del Grupo de Paleoneurobiología del Centro Nacional de Investigación sobre la Evolución Humana (CENIEH) ha publicado recientemente un trabajo que recoge evidencias e hipótesis acerca de las variaciones anatómicas de la corteza parietal a lo largo de la evolución humana, enlazando paleoneurología, neuroanatomía comparada y arqueología cognitiva.

Se trata de un artículo de revisión de casi veinte años de estudios sobre la evolución de los lóbulos parietales en el género humano, que resume e integra los datos sobre los fósiles y sobre las especies actuales, sobre los humanos y los simios antropomorfos, sobre los elementos cerebrales, vasculares y óseos de la región parietal.

Este artículo forma parte de un volumen de la revista Brain Behavior and Evolution dedicado a un encuentro sobre evolución y neurociencia organizado por la editorial Karger en noviembre de 2017 en Estados Unidos, titulado "From fossils to function: integrative and diverse approaches to vertebrate evolutionary neuroscience".