The CENIEH researcher Adrian Pablos has led the study of a Neanderthal fossil found in the Galería de las Estatuas site. This is a phalanx whose chronology makes it one of the oldest remains of this species in the whole of the Iberian Peninsula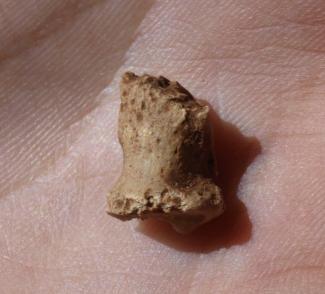 A study has just been published in the journal American Journal of Physical Anthropology, headed by Adrián Pablos, a researcher at the Centro Nacional de Investigación sobre la Evolución Humana (CENIEH), which shows the taxonomic affinity with Neanderthals of a foot phalanx found at the Galería de las Estatuas site in the Sierra de Atapuerca (Burgos). The chronology of the levels where the phalanx was recovered, about 100,000 years old, makes it one of the oldest Neanderthal remains in the whole Iberian Peninsula.

It is the phalanx from the right little toe of an adult human, whose comparative anthropological analysis has turned out to be complicated due to the scarcity of well‐identified phalanges in the fossil record, either from Neanderthals or the first Homo sapiens.

Researchers from the Centro Mixto UCM-ISCIII de Evolución y Comportamiento Humanos and the Universidad del País Vasco (UPV-EHU) also participated in the study of this human fossil (GE-1573), which appeared during the 2017 field season in a context of Mousterian occupation, the technology typical of Neanderthals; in addition, different dating methods have placed the sediments at the start of the Late Pleistocene, the epoch of this extinct population.

"The metric results show that this is a distal phalanx similar that of the few Neanderthal ones in existence, and much more robust than that of anatomically modern humans from the Late Pleistocene, the so-called Cro-Magnons, and this allows us to assign this phalanx to a Neanderthal", affirms Pablos.

Fifth site with human remains
Further, this finding confirms the Galería de las Estatuas site, which has been undergoing excavation since 2008, as the fifth in the Sierra de Atapuerca with Pleistocene human fossils, and it represents the first evidence of a Neanderthal fossil in the stratigraphic context of these sites in Burgos.

"The fact that distal little toe phalanges have only been recovered from sites with burials or large accumulations of fossils leaves the door open to the hope of finding more Neanderthal remains in future excavation campaigns at this and other sites in Atapuerca", declares Pablos.