The Dental Anthropology Group at the CENIEH has published a paper in the American Journal of Physical Anthropology on this reference collection which, thanks to donations from all over Spain, holds around 3000 milk teeth for paleoanthropological and forensic research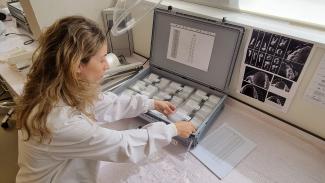 About 3,000 deciduous teeth from modern humans currently comprise the Ratón Pérez Collection of the Centro Nacional de Investigación sobre la Evolución Humana (CENIEH), a collection unique in the world created with the help of hundreds of donors from all over Spain, and thanks to the support of the Fundación "la Caixa" and the Fundación Caja de Burgos.
The American Journal of Physical Anthropology has published a paper today by the CENIEH Dental Anthropology Group, in which the Center's Conservation and Restoration Laboratory and its Scientific Culture and Innovation Unit (UCC+i) also participated, making this collection known to the scientific community so it can be used for research in the areas of forensic anthropology and human evolution.
As Marina Martínez de Pinillos, coordinator of the project and lead author of the paper, explains: "We are creating a reference collection which researchers from all corners of the globe can access, either physically, in the Center itself, or virtually, because all the dental pieces are being scanned".
Researchers will also be able to access the database records of the collection, which hold anonymized information about the sex and age of the individual, the loss of the tooth, the type of lactation and place of origin of the person's forebears, as well as other data.
This database will permit important comparative studies in the fields of paleoanthropology, dentistry and forensic science, such as external and internal morphological characterization of teeth, pathological studies and research into patterns of dental development and histology.
Tooth Collection Campaigns
Collaboration by the public has been essential to creating this collection, which got under way in 2014 in Burgos through tooth collection campaigns run by the CENIEH UCC+i under the auspices of European Researchers' Night. Since 2018, the campaigns have taken place in nine Autonomous Regions, and the objective is to expand it to the remaining regions, and even to other countries.
To date, approximately 3000 milk teeth have been gathered from boys and girls aged 2 to 15 from all over Spain, who have generously participated in this citizen science project.
"We hope we can continue to count on the selfless collaboration of donors so that the collection is able to offer the scientific community an ever-growing sample covering the widest possible range of teeth, ages and geographical origins", adds Martínez de Pinillos.