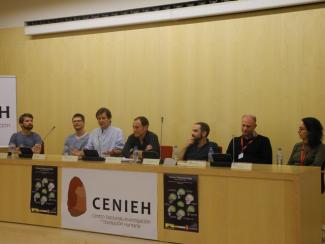 The International Symposium of Human Paleoneurology organized by the CatedraTomás Pascual Sanz-CENIEH, in collaboration with the FECYT, under the direction of the researcher Emiliano Bruner, head of the Group of Paleoneurobiology, was opened yesterday by Jose Maria Bermúdez de Castro, director of the CENIEH and Ricardo Marti Fluxá, president of the Instituto Tomás Pascual Sanz.
The program of this International meeting, addressed to scientists, professionals, professors and students from all over the world, includes outstanding specialists in this field such as: Chet Sherwood, George Washington University; Philipp Gunz and Simon Neubauer, Max Planck Institute; Fred Coolidge, University of Colorado; and Natalie Uomini, University of Liverpool.
A book including all the lectures delivered in this Symposium will be issued with the purpose of becoming a reference for studies of brain evolution, nand it which will be distributed by the Instituto Tomás Pascual Sanz.
Lecturers and participants had the opportunity to visit the sites of the Sierra de Atapuerca, guided by of Josep M: Parés, coordinator of the CENIEH  Geochronology Program.