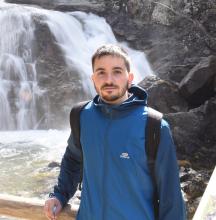 ERC-2020-STG DEATHREVOL Project
Edgar Téllez holds a degree in History and Heritage from the University of Burgos (2012-2016) and completed the Erasmus Mundus Master in Quaternary Archaeology and Human Evolution at the Universitat Rovira i Virgili in Tarragona (2016-2018) during which he spent a stay at the Università Degli Studi di Ferrara (Italy).
Between 2018 and 2022, he worked as a Fossil Collections curator at the Institut Català de Paleoecologia Humana i Evolució Social (IPHES-CERCA) in Tarragona.
His lines of work focus on zooarchaeological and taphonomic studies of archaeological sites and the development of experimental works applied to Paleolithic contexts.
He has participated in excavations such as the Sierra de Atapuerca Sites, Abric Romaní, or Barranc de la Boella and research projects such as Cinglera del Capelló 2018-2021 or the MICIU Ecosocial Behavior of Hominids from the Sierra de Atapuerca during the Quaternary, V.
Currently, he is in his Ph.D. at the CENIEH in Burgos, within the framework of the ERC-2020-STG-DEATHREVOL Project, which focuses on the taphonomic analysis of faunal remains associated with Paleoanthropological Paleolithic sites.
Image