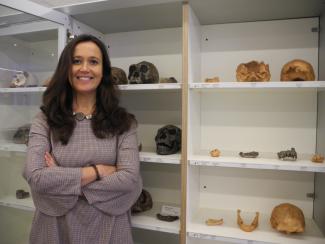 The paleoanthropologist María Martinón Torres has started today as director of the Centro Nacional de Investigación sobre la Evolución Humana (CENIEH). After an open and competitive selection process, she was appointed the 27th of November by the Governing Council of the CENIEH, replacing the geologist Alfredo Pérez González.

The new director, who is member of the Atapuerca Research Team (EIA) since 1998, has expressed her excitement in this new stage of her professional career and hopes "to continue working as a team to make of Burgos the European capital of human evolution."

The CENIEH is a research facility included in the MAP of Unique  Scientific and Technical Infrastructures (ICTS), approved by the Science, Technology and Innovation Council (CPCTI) in October 7th, 2014. The CENIEH is the only ICTS in Spain in the field of Social Sciences and Humanities, and one of the two ICTS in the Castilla y León region.

Scientific background

María Martinón-Torres holds a PhD in Medicine and Surgery (Santiago de Compostela), a MSc in Forensic Anthropology (Universidad Complutense de Madrid) and a MPhil in Human Origins (Bristol, UK). From 2015 to 2017 she has been Reader at the Anthropology Department of University College London. She was Research Leader of the Dental Anthropology Group from 2007 to 2015 at CENIEH.

She has leaded and participated in several international projects related to the study of the hominin dental evidence worlwide like in Dmanisi (Georgia) and China, and published more than 60 book chapters and scientific articles in peer-reviewed journals included in the Science Citation Index such as Nature, Science, PNAS or Journal of Human Evolution. Her work has been highlighted as Top 1% of most cited authors in the field of Social Sciences according to Thomson Reuters Essential Science Indicators.