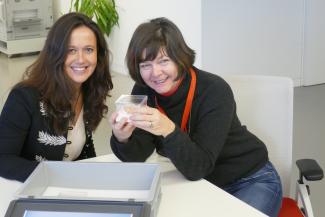 La paleoantropóloga Mirjana Roksandic, profesora del Departamento de Antropología de la Universidad de Winnipeg (Canadá), ha visitado esta semana el Centro Nacional de Investigación sobre la Evolución Humana (CENIEH) para colaborar con el Grupo de Antropología Dental en el estudio de las poblaciones humanas del Pleistoceno europeo.

La doctora Roksandic es responsable de la excavación del yacimiento de Mala Balanica (Serbia) donde se encontró una mandíbula humana de aproximadamente 300.000 años de antigüedad. Los investigadores del CENIEH y la paleoantropóloga de la universidad canadiense se plantean la comparación directa de la mandíbula de Mala Balanica con los fósiles de Homo antecessor hallados en Atapuerca y profundizar así en su posible relación.

Durante su estancia, la investigadora ha visitado los yacimientos de Atapuerca, el Museo de la Evolución Humana, y los laboratorios del CENIEH a los que ha calificado de "extraordinarios". Además ha impartido  una conferencia titulada "Revising the Homo heidelbergensis hypodigm: A view from the Eastern Mediterranean" en la que ha abordado el debate actual sobre la especie H. heidelbergensis.