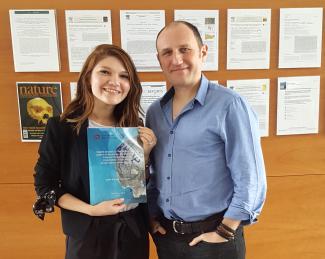 Esta mañana Gizéh Rangel de Lázaro ha defendido su tesis doctoral en la Universidad Rovira i Virgili de Tarragona, sobre el sistema vascular y la  termorregulación endocraneal de los homínidos, codirigida por Emiliano Bruner (CENIEH) y Carlos Lorenzo (IPHES).

La tesis titulada "Digital analysis of the diploic vascular system in anatomy, archaeology and paleoanthropology and its implications in the hominid endocranial thermoregulation", se ha desarrollado en el laboratorio de Paleoneurología del Centro Nacional de Investigación sobre la Evolución Humana (CENIEH), dentro del marco del Doctorado Internacional Erasmus Mundus.

El tribunal formado por Martin Friess (Muséum National d'Histoire Naturelle, Paris), Marina Lozano (IPHES) y Markus Bastir (Museo de Ciencias Naturales, Madrid) le ha otorgado a la nueva doctora la calificación de excelente.