This is an international organization founded with the objective of furthering scientific knowledge of prehistory and protohistory, covering a period from the origins of humanity to the end of the Iron Age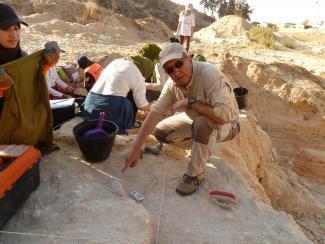 The archaeologist Mohamed Sahnouni, coordinator of the Archaeology Program at the Centro Nacional de Investigación sobre la Evolución Humana (CENIEH), is one of the 38 founder members of the International Academy of Prehistory and Protohistory (AIPP), an endeavor of the International Academic Union (UAI) in response to the very scarce presence of prehistorians and protohistorians in national academies.
The purpose of this international organization is to further scientific knowledge of prehistory and protohistory, which together cover a period from the origins of humanity to the end of the Iron Age.
The 38 founder members of the AIPP held a meeting on December 20th, 2022, in the Palais des Académies in Brussels (Belgium), both in-person and remotely, to participate in the Founding Assembly of the Academy. This meeting decided that the first AIPP Symposium in 2023 will be held in May 30th in Brussels, on the topic of "Human evolution and cultural change".
The AIPP has three categories of members: Emeritus Members, Full Members and Corresponding Members. AIPP membership is limited to 40 members in each category, divided equally between prehistorians and protohistorians, so that there is a maximum of 120 members.
A list of membership criteria for this international organization, characterizing archaeological research activity, has been drawn up. The list includes the qualifications obtained, the professional level attained, archaeological excavation activity, scientific production, international reputation, and the awards received.
"It has been an honor for me to have been selected as a founder member of the AIPP, which will definitely play a crucial role in representing our scientific discipline and the fields of human evolution and prehistory", comments Sahnouni.