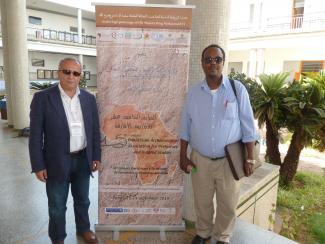 Mohamed Sahnouni and Sielshi Semaw, researchers of the Archaeology Program at the Centro Nacional de Investigación sobre la Evolución Humana (CENIEH) have organized a session at the 15th PanAfrican Congress of Prehistory and Related Studies in Rabat, Morocco, from September 10-14, 2018.

The session; entitled Recent advances in Early Stone Age Studies in Africa, New Insights on the Oldowan and the Acheulian stone technology"; attracted 17 podium presentations and 3 posters on the latest research carried out on key Early Stone Age sites in East, South and North Africa.

Prominent international scientists from the US, Europe and Africa attended the session and the papers presented generated productive discussions on pertinent current research topics in the discipline.